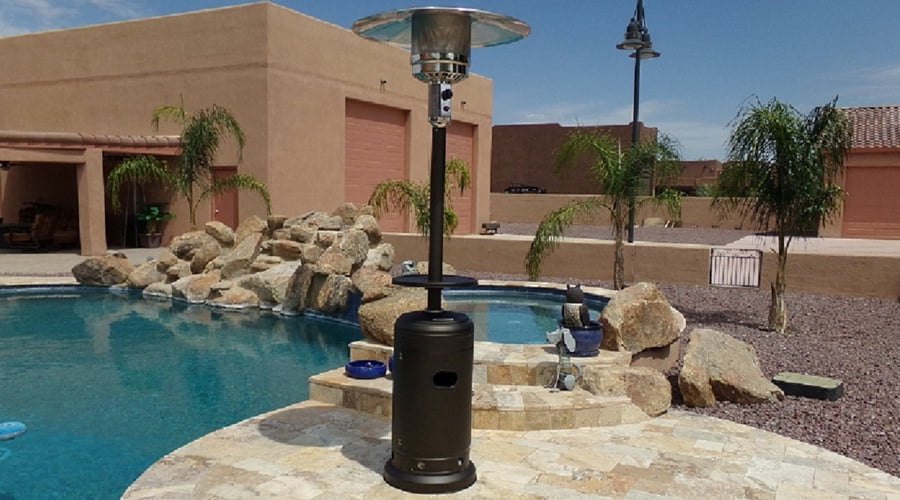 Do outdoor heaters really work? Yes, they do. Whether you're hoping to spend more evenings outdoors or want to enjoy your patio during fall & winter, heating is an important element for your outdoor space. The addition of heaters provide you with enough warmth to feel comfortable sitting outside & also enhance the look of your patio or yard. Below, we'll cover what you need to know before buying a patio heater & an in-depth look at the different types of that are available. From safety to materials, we cover it all. Read on to learn more about outdoor heating.  
All about patio heaters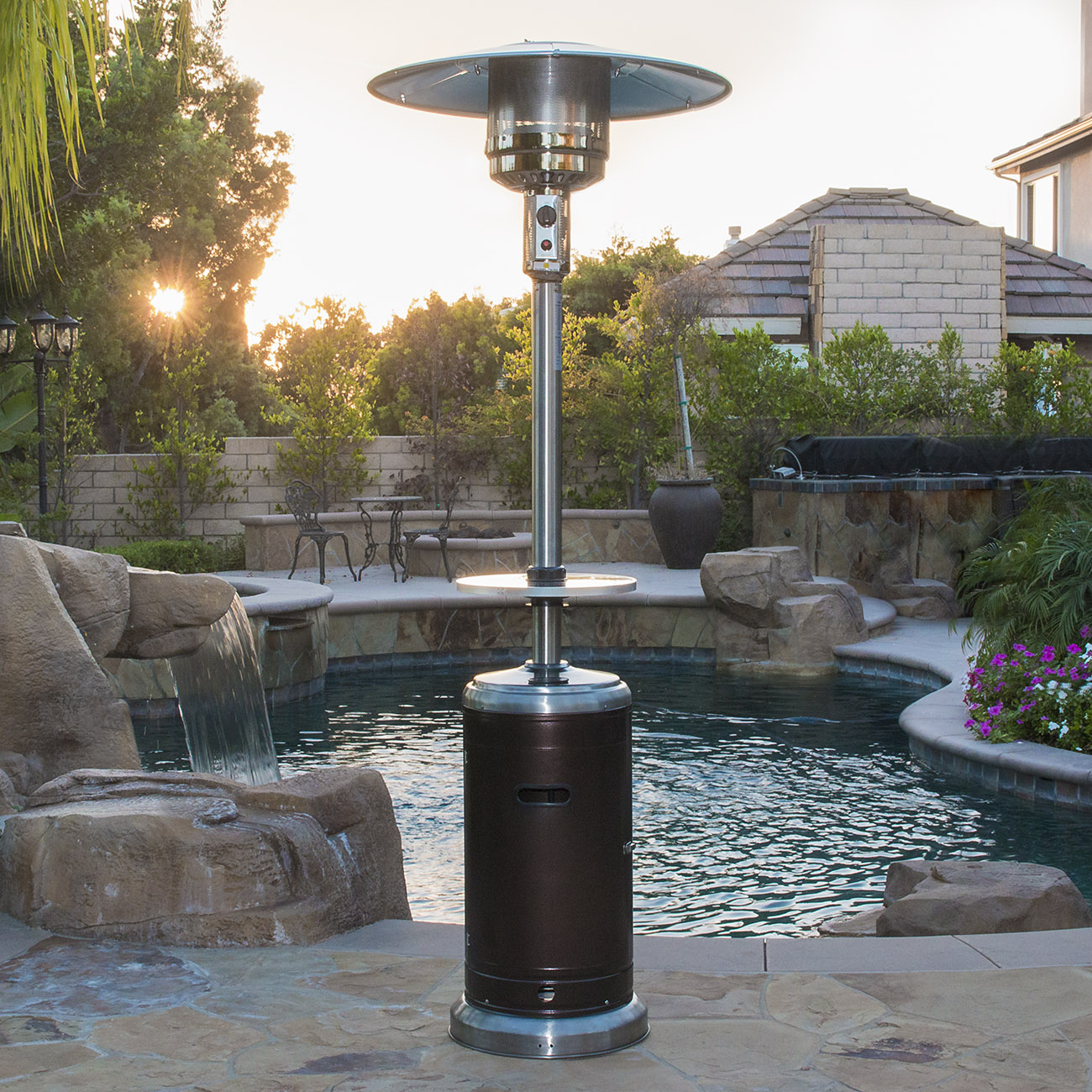 Why we love patio heaters
Patio heaters are a useful addition to your outdoor space. They make any evening cozier & can extend the life of your patio by a whole month (or two). They also bring the sophistication of a restaurant or hotel to your own backyard.
When choosing where to place your patio heater, remember to keep a clearance distance of 24″ surrounding the heater & 36″ above. You should also avoid any areas where strong winds can breeze through. To extend the life of your patio heater & all its parts, be sure to use a patio heater cover when your patio heater is not in use.
For safety, look for features like the anti-tilt switch (automatically turns the heater off if it's knocked over), safety certification (meets the required safety & performance standards for the USA & Canada), & wheels or other portable features (so you don't hurt yourself trying to move it around).
Types of patio heaters (swipe to see more)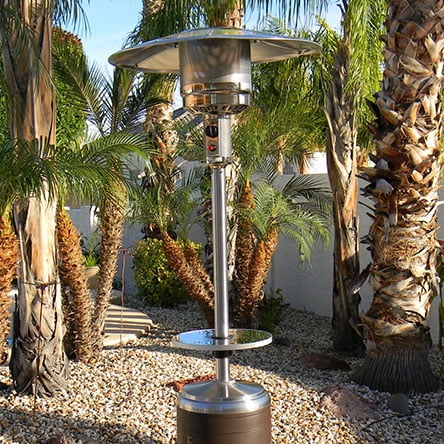 01/04Standing patio heaters:These are the most common patio heaters. Often, they're tall & thin with a small compartment where the fuel tank is stored. These patio heaters give off quite a bit of heat, so they're often used in outdoor dining areas or larger spaces. There are also built-in table options that work well as a gathering place for family & friends who want to enjoy conversation & a cocktail or snack. Browse patio heaters >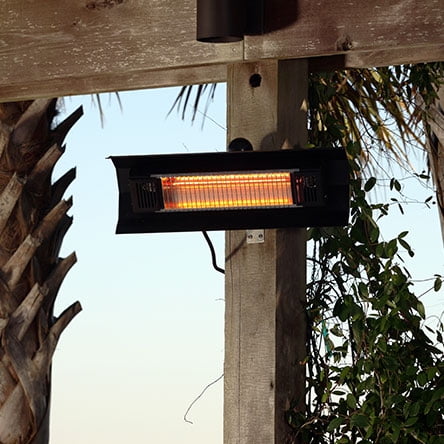 02/04Mounted patio heaters:Mounted patio heaters are not freestanding. Like the name suggests, they mount to the ceiling or a wall. This makes them a good option for smaller spaces. They provide heat without taking up floor space. Most of these heaters are electric & require permanent installation.  Browse patio heaters >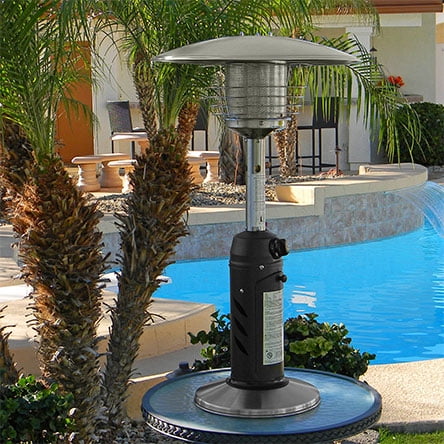 03/04Tabletop patio heaters:If you don't have a large area to heat or have tables set up at the far corners of your backyard, consider a tabletop patio heater. These miniature heaters (available in both electric & gas fuel types) are petite enough to sit on a table while providing a good amount of heat to keep your small space warm.  Browse patio heaters >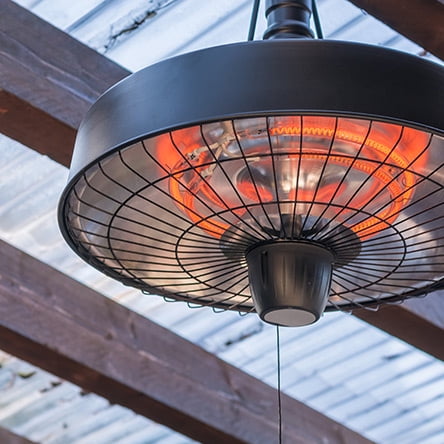 04/04Hanging patio heaters:Hanging patio heaters resemble pendant lights. They are suspended from above from the ceiling of a deck or patio or a pergola. These are another great option for smaller spaces that don't have room for a standing heater. Keep in mind that most are electric and require permanent installation.  Browse patio heaters >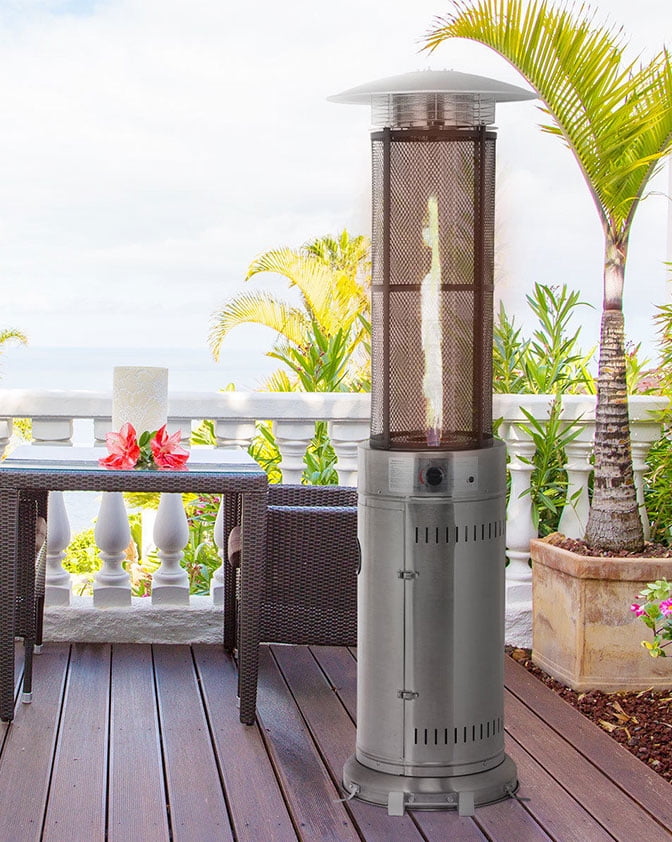 A brief guide to materials
Patio heaters are mainly made from one of two materials: stainless steel or powder-coated steel. Both are excellent choices. Powder-coated steel is the most popular. They're more affordable than high-grade stainless steel & can come in a variety of attractive finishes. They're coated to prevent rust. However, they are not quite as durable as high-grade stainless steel. Stainless steel is a bit more expensive but is valued for its durability & resistance to rust. There are also different grades of stainless steel. 430 & 201 are a good choice for most places. However, consider 304-grade stainless steel if you live near the ocean. Browse patio heaters >
Patio heaters by fuel type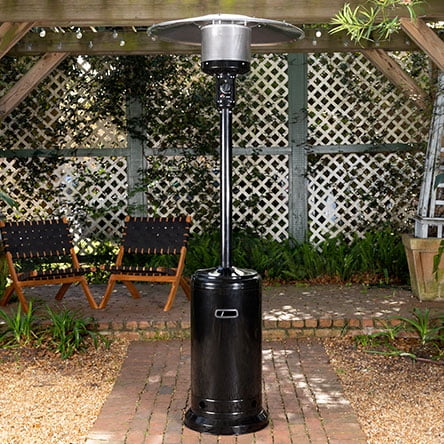 Propane patio heaters
Propane patio heaters are a popular choice. They don't require any installation & are very easy to use. Many propane heaters have a space for the fuel tank to hide at the base of their stands. Others may come with a propane cover to hide away their fuel source. They're portable & some even come with wheels to help you move them around. Keep in mind, you'll need to replace your fuel tank with this type of patio heater. Browse now >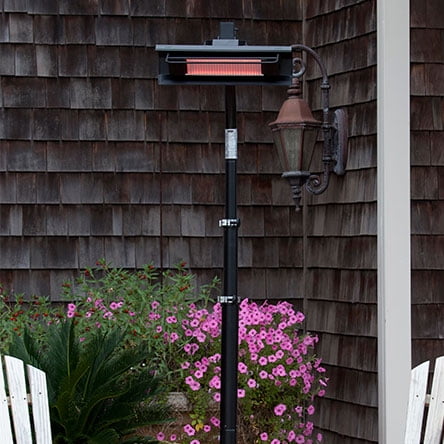 Electric patio heaters
Many people choose electric patio heaters because they're eco-friendly & produce no emissions. They can also be brought indoors (though you'll want to make sure the heat has a low enough setting). Keep in mind, these heaters need to be plugged into an outlet, so make sure you have one nearby. Some may require professional installation as well. Browse now >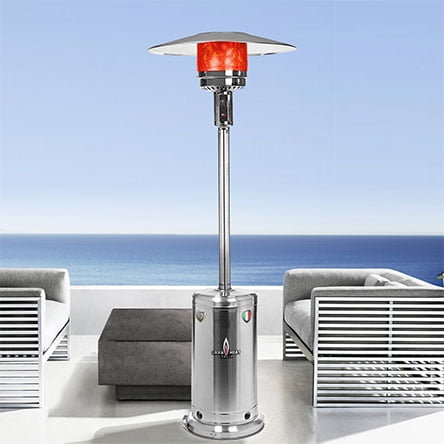 Natural gas patio heaters
Natural gas patio heaters are another great option. They're connected to the same gas as the rest of your home, so there's no need to buy fuel refills. This also makes them an eco-friendly & affordable option. To avoid any leaks or mishaps, it's best if these patio heaters are installed by a professional. Browse now >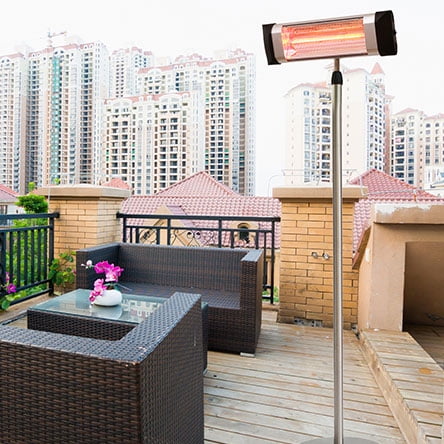 Infrared patio heaters
There are also infrared patio heaters. The biggest difference between a standard & infrared heaters is the fact that infrared heaters heat objects, not just the air. This means that they keep your chairs & clothes warm for longer (even after the heater is turned off). They're also known for their efficiency, heating spaces quickly.